After Dr.Web is installed,

 icon is added to Windows notification area. The icon displays the current application state. To open Dr.Web menu, click 

. If the application is not running, in Start menu expand the application group Dr.Web and then select Security Center.
In the Dr.Web menu 

, you can view security status and get access to the main managing tools and program settings.
To access the component parameters and open your personal webpage My Dr.Web, you also need to enter the password if you have enabled the Protect Dr.Web settings with a password option in the settings window.

If you have forgotten your password for the product settings, contact technical support .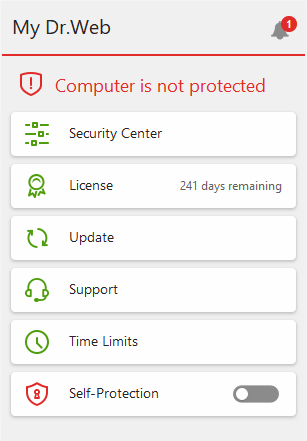 Figure 11. Program menu
My Dr.Web. Opens your personal webpage on the Doctor Web official website. This page provides you with the information on your licenses including usage period and serial number, allows you to renew the license, contact technical support, and so on.
Computer security status. If all the program components are enabled, the Computer protected status is displayed. If one or several components are disabled, the status is changed to Computer not protected.
Security Center. Opens a window with an access to the main settings, parameters of the protection components, including Parental Control parameters, and exclusions.
License. Information on the amount of days remaining until the license expires. Opens License Manager.
Update . Information about the actuality of virus databases and last update date. Launches the update of program components and virus databases.
Support. Opens support window.
Time Limits (if an option of internet or computer usage limits is enabled in the Parental Control component). A brief information on internet or computer usage restrictions or on break duration if time intervals are specified.
Self-Protection (if Self-Protection is disabled). You can enable Self-Protection using the switcher.
Notification Feed 
. Opens the Notification Feed window.
Dr.Web icon displays the current application state:
| Dr.Web icon | Description |
| --- | --- |
| | All necessary components are running and protecting your computer. |
| | Self-Protection or an important component is disabled, or virus databases are out-of-date, that compromises security of the anti-virus and your computer. Enable Self-Protection or the disabled component. |
| | Components are expected to start after the operating system startup process is completed, thus wait until the components start; or an error occurred while starting one of the main Dr.Web components, and your computer is at risk of virus infection. Check that you have a valid key file and, if required, install it. |
| | Scanner is currently running. |