This tool allows the user to manage Dr.Web Anti-virus for Windows, Dr.Web Anti-virus for Windows Servers, or Dr.Web Security Space within one product version on other computers of your network.
To open the Anti-Virus Network window
1.Open Dr.Web menu 

, then select Security Center.
2.In the open window, click Tools tile.
3.Click the Anti-Virus Network tile.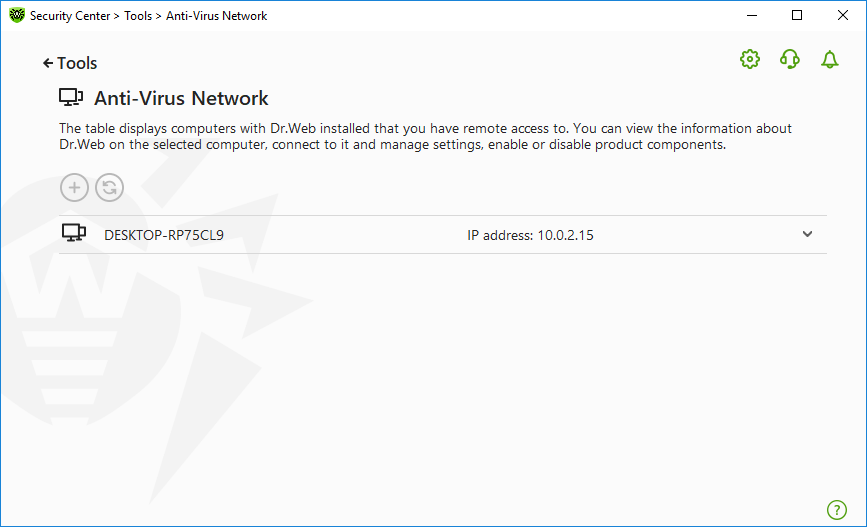 Figure 114. Anti-virus Network nodes
Computers are listed if Dr.Web products installed on these computers allow remote connection. You can allow connection to your Dr.Web on the Anti-virus network settings page.
If the required computer is not on the list, try to add it manually. For this, click 
and enter an IP-address in a IPv4 or IPv6 format.
| | |
| --- | --- |
| | If a component is disabled on the station, an exclamation mark is displayed. |

Parameters for Anti-Virus Network operation
During anti-virus network operation multicast and UDP requests with following parameters are used:
Parameters for multicast request:
•IP address: 239.194.75.48 or ff08::28 for IPv4 and IPv6 respectively
•Port: 55566
•Polling interval: 2000 ms
Parameters for UDP request:
•Port: 55566
•Polling interval: 2000 ms
To connect to remote Dr.Web
1.Select a necessary computer from the list. In the expanded line, a detailed information about status of components on the station and about the last update is displayed.
2.Click Connect.
3.Enter the code specified in the settings of the remote anti-virus. An icon for the remote SpIDer Agent

appears in the notification area, and the notification about successful connection will be displayed.
| | |
| --- | --- |
| | You can establish only one connection with a remote Dr.Web product. If one connection is already established, the Connect button is disabled. |
You can view statistics, enable or disable components, and change their parameters. Anti-Virus Network, Quarantine, Scanner and %DATA_LOSS_PREVENTION%> are not available.
You have also an access to the Disconnect option. When choosing this option, the current connection to the remote anti-virus disables.