To detect malicious objects, Dr.Web products use virus databases that contain information about all known malicious programs. Regular updates of databases allows to detect previously unknown viruses, block their distribution, and in some cases to cure previously incurable infected files. Besides virus databases, Dr.Web software components and help documentation are updated as well.
For Dr.Web to update, you need a connection to the Internet or to the update mirror (local or network folder), or to the Anti-virus network with at least one computer that has an update mirror set. Customizing of update source settings can be done on settings page Main → Update. The details of customization of Dr.Web updating parameters is located in Update section.
Updates relevance check
To check the relevance of virus databases and program components, open Dr.Web menu 

. In case if updates are relevant, in menu Update is not required is displayed.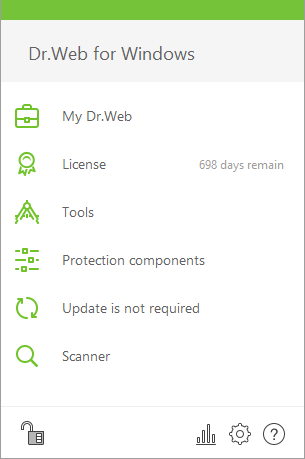 Figure 18. Dr.Web menu
During the update, Dr.Web downloads all updated files that correspond to your version of Dr.Web and upgrades Dr.Web if a newer version is available.
| | |
| --- | --- |
| | After an update of executable files, drivers, or libraries, a program restart may be required. In such cases, an appropriate warning displays. |
Update launch from Dr.Web menu 

1.Open Dr.Web menu

, then select Update. Depending on virus databases and program components relevance, the name of this menu item can vary.
2.This opens information on relevance of Dr.Web virus databases and other components as well as the date of their last update. Start updating by clicking Update.
Update launch from the command line
Open the Dr.Web installation folder (%PROGRAMFILES%\Common Files\Doctor Web\Updater) and run the drwupsrv.exe file. The list of command-line parameters can be found in Appendix A.
Update logs
You can access the update logs in Statistics section. To access logs open Dr.Web menu 

, then open Statistics 

page.
Dr.Web updates logs are stored in dwupdater.log file located in the %allusersprofile%\Doctor Web\Logs\ folder.